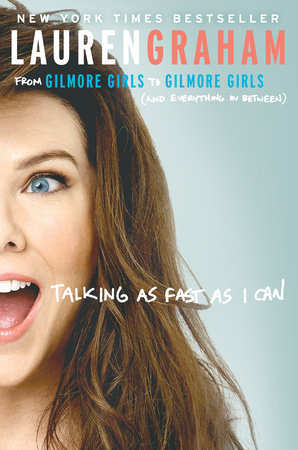 I loved Gilmore Girls. I have fond memories of watching it while I nursed my first child and I remember how sad I was when it ended. When the new episodes aired on Netflix this past fall, I wasn't sure how I felt about it. Perhaps my expectations and hopes were too high, or perhaps I've grown and changed. Either way, I liked it well enough, but not like I used to.
That all said, when I read that Lauren Graham was writing a book about her Gilmore Girls years, Talking As Fast As I Can, I knew I would have to read it. Right away, I put my name on the library reserve list, but the audiobook actually came in first, so I thought, "Hey, why not listen to Lauren talking as fast as she can?" It was a good choice. You know that I usually don't listen to books I haven't read yet, and this is a prime example of why I have that rule. Wait! Don't get me wrong- it was a wonderful book and a very fun experience. The only problem I have is that I wasn't able to mark the passages that I would like to share with you here. It's a lot harder to put sticky notes on my favorite parts of an audio book.
This book was fun and funny. I loved all the background information about how Lauren got into acting and all the hard work that led up to her success. She makes it very clear that she WORKED her way to stardom; there was no easy path for her and she is very encouraging of anyone working their way toward any kind of dream. I also really loved her writing advice. This is Lauren's second book, her first being a work of fiction, Someday, Someday Maybe. The main takeaway for me was to just keep going. Just keep writing. Set a kitchen timer and block out any distractions and WRITE.
This book also had lots of behind the scenes information about both the original Gilmore Girls and the new episodes. Lauren kept a diary during the filming of the new episodes and has lots of detailed info. The only complaint I had about listening to this as an audiobook is that I missed out on what sounded like some great photos. I believe there was a PDF file on the CDs I borrowed from the library, but I've returned it already and can't check. I liked listening to this and I think you will, too.