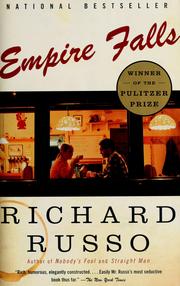 About a year and a half ago, my wonderful book club read Empire Falls by Richard Russo. I missed it because our family had gone to live in France for three months. While that was about as amazing an experience as you can imagine, I really wish I hadn't missed this book discussion. Several book club members had mentioned how much they liked the book and one even told me it had become her favorite book that we had read yet. It has taken me this long to finally get around to reading it (so many books, so little time) and I can't wait to discuss it with someone.
This winner of the 2002 Pulitzer Prize (really, how incredible must it be as a writer to win the Pulitzer?!) was later made into a two-part mini-series for HBO that went on to win the Golden Globe for Best Mini-Series in 2006 (again, how incredible). Empire Falls is set in a small, economically suffering town in central Maine. The book begins by chronicling the Whiting family's history and rise to power and money over many generations. Mostly, however, the story revolves around the present day town's inhabitants. Miles, who once tried to leave the town but has been back for twenty years, runs the local diner. His ex-wife, his daughter, his brother, his childhood friends, his father and his former mother-in-law all play important roles in his life. The elderly Mrs. Whiting is also a strong presence for Miles and for the entire town, seeing as how she owns most of it including the three now abandoned mills that used to support the town.
Miles is often described as a "soft touch" and a "pushover" of whom many of the people around him like to take advantage. Miles' aging father Max expects his son to support him regardless of the fact that Max did very little supporting himself while his boys were young. Miles' ex-wife walks over him with the expectation that he will not complain. And Miles' employer, Mrs. Whiting, has him doing her bidding with very little reward for himself.
The local soon-to-be chief of police, Jimmy Minty, is obviously corrupt and his son, Zach, is a much darker, meaner version of Eddie Haskell who has no respect or regard for the adults around him. John, the young man Zach chooses to torment, has a disturbing secret and Tick, Miles' daughter, tries her best to keep the peace despite the fact that Zach is her cruel ex-boyfriend and John is the boy the principal has asked her to befriend.
The timeline begins as summer is ending and as the story progresses over the next four months, the reader can almost feel the clouds and cold descend on the characters. While filled with moments of humor, life is not easy for the residents of Empire Falls and many seem to have lost hope. Several times during my reading I wanted to urge the characters to leave and start anew somewhere else. Of course, that is not an option for many of the characters as this small town is all they and generations before them have ever known.
As many of my book club friends mentioned, this book was a bit of a slow start. I believe several identified around page 100 when the story began to pick up speed. As for me, I had about a third of the book to go last night when I just couldn't seem to stop reading. This morning I woke up knowing I would finish my reading before I could accomplish anything else today. At 483 pages, while long, the real mystery to me is how Mr. Russo fit in so much story. Each of the many characters feels fully developed and three-dimensional. I was captivated by the story and anxious to discover all the skeletons hiding in so many closets in this town. I am borrowing the mini-series from the library this week, so it will be interesting to see how such a robust novel will fit into 197 minutes.
A note to my local friends: Now that I've finished reading this one, I'm happy to pass it along. Would anyone like it?