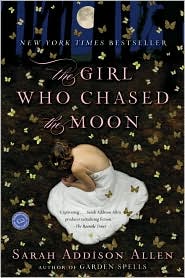 The Girl Who Chased the Moon by Sarah Addison Allen was the official book club selection for August. This is the third book I've read by this author and can I just tell you? I LOVE her books. Her writing is always so fun and magical and whimsical. Prophetic trees and books that magically appear and cakes that call to people. It's all so wonderful- and by that I mean full of wonder. LOVE THEM!
This book was no disappointment. It was a very quick read- I started Saturday afternoon and I was finished by Sunday evening. I have already recommended it to a couple of people. I can't wait to discuss it in book club tomorrow night. Pick it up. I think you'll love it just like I do. And while you're at it, pick up her other novels as well. They are just as good!
I can't read her fourth novel!