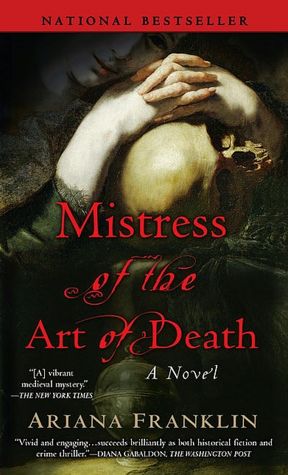 This month's book club selection is Mistress of the Art of Death by Ariana Franklin, and oh, what a book it is! My dear sweet friend Amy had been telling me for a while that I needed to read this book so I was more than a little excited when it was selected by our book club host.
Set in medieval Cambridge, the deaths of four children have caused the heartbreak of a small community as well as an attack on the Jews living in the area. King Henry II insists that the murderer must be found and the Jews exonerated and so he summons a medical expert from Salerno, Italy. Unexpectedly, the expert that arrives is a woman, Adeila- something most denounced at that time. To avoid charges of witchcraft, Adelia must conceal her purpose and investigate secretly.
I almost never say that I couldn't put a book down, but in this case I really couldn't put it down. I was riveted by all the twists and turns. I will admit that the language took a little adjustment, but once I had acclimated to the terminology I was hooked. The last night I was reading it, I kept intending to put it down and get ready for bed, but I just couldn't stop. I knew I was close to the revelation of the murderer and I just had to keep going. Once I had finished, I felt like I had just chugged a Red Bull. I was so excited and my mind kept replaying the scenes. Then I did that thing that my husband doesn't really care for: I insisted on recounting the entire plot of the book for him. He really doesn't mind too much, but lets me go on and on and then makes a joke about how I totally ruined it for him. But I just couldn't help myself- it was just so good!
Then I proceeded to send emails to all of my book club friends telling them how great a book it is. I was a little afraid that the first few chapters would prevent them from finishing the book and I really didn't want them to miss out on all of the fabulousness. Seriously people, I cannot recommend this book enough. I will admit that the murders of the children are gruesome and normally that is a deal breaker for me, but Franklin wrote it in such a way that the reader knows what happened without dwelling on it more than necessary.
Please read this and tell me if you loved it as much as I did. And tell me if you figured out early who the murderer was- I did, but I still loved it!