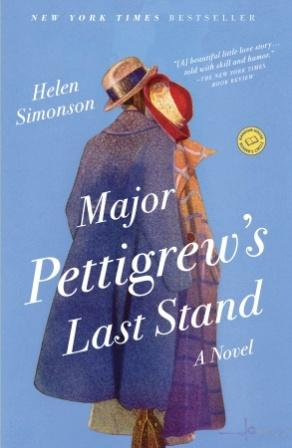 The official book club selection for April was
Major Pettigrew's Last Stand
by Helen Simonson. First, can we start with the cover? I know you aren't supposed to judge a book by it's cover, but I just love the front of this book. If you look closely enough, you see it is two coats and two hats hanging on a stand, but it's just such a sweet photo.
Major Pettigrew is an older gentleman and a widower. His unlikely friendship with a local shop owner and widow, Jasmina Ali, turns into more than he had ever expected. Jasmina is such a wonderful character. I loved her quick-witted replies and strength. When the Major's obnoxious son makes a comment about Mrs. Ali being the Major's "lady friend," Jasmina responds with "I refuse to be referred to by a term so oily with double entendre. I prefer 'lover.'" And who couldn't love her?
This was a lovely book and I truly enjoyed it. Of course, I'm beginning to discover that I am a bit of an anglophile. I love all things British- the accents, the manner of speech, the propriety. I love it all.